In our continuing series examining the breadth, depth, and possibilities of how you can configure and utilise the bethebrand system, this time we are taking a look at brand guidelines and how bethebrand can not only make their management easy, but also have an impact on your marketing effectiveness.
Operational Challenges
There are many reasons why brand guidelines get side-lined in a busy business:
They are hard to find;
They are cumbersome and hard to understand;
People ignore updates and changes because they are stretched and updates are hard to disseminate;
How they are laid out in the guidelines and how you find the assets themselves in the company's systems are the same leading to confusion and time wastage;
Teams going rogue because they are unsupported, leaving them to self-interpret guidelines.
bethebrand System Solution
The bethebrand brand guidelines module overcomes all of these challenges:
Because it is built as a microsite and extremely user friendly, the brand team can update it themselves;
There's no need to set a new PDF and send it to everyone every time there is a change, as it's all online and up to date every time it is needed;
Notifications of changes to the guidelines can be sent to colleagues via banner and or email;
There are page layout options for both text and images, making the system completely customisable;
If users require additional assets for their particular requirement, you can provide downloads from either the page or the asset store:
With full on-demand image resizing functionality within the microsite there's no need to keep every permutation and file type of a particular image – you simply purpose the master image for what is required;
With the ability to embed videos you can provide handy hints and tips to bring the brand guidelines to life for everyone;
Users can submit their work via the system to be reviewed by the brand team to provide a simple and effective 'second pair of eyes' approach.
Here's a handy diagram to show you more, kindly offered by Wesleyan from their live microsite.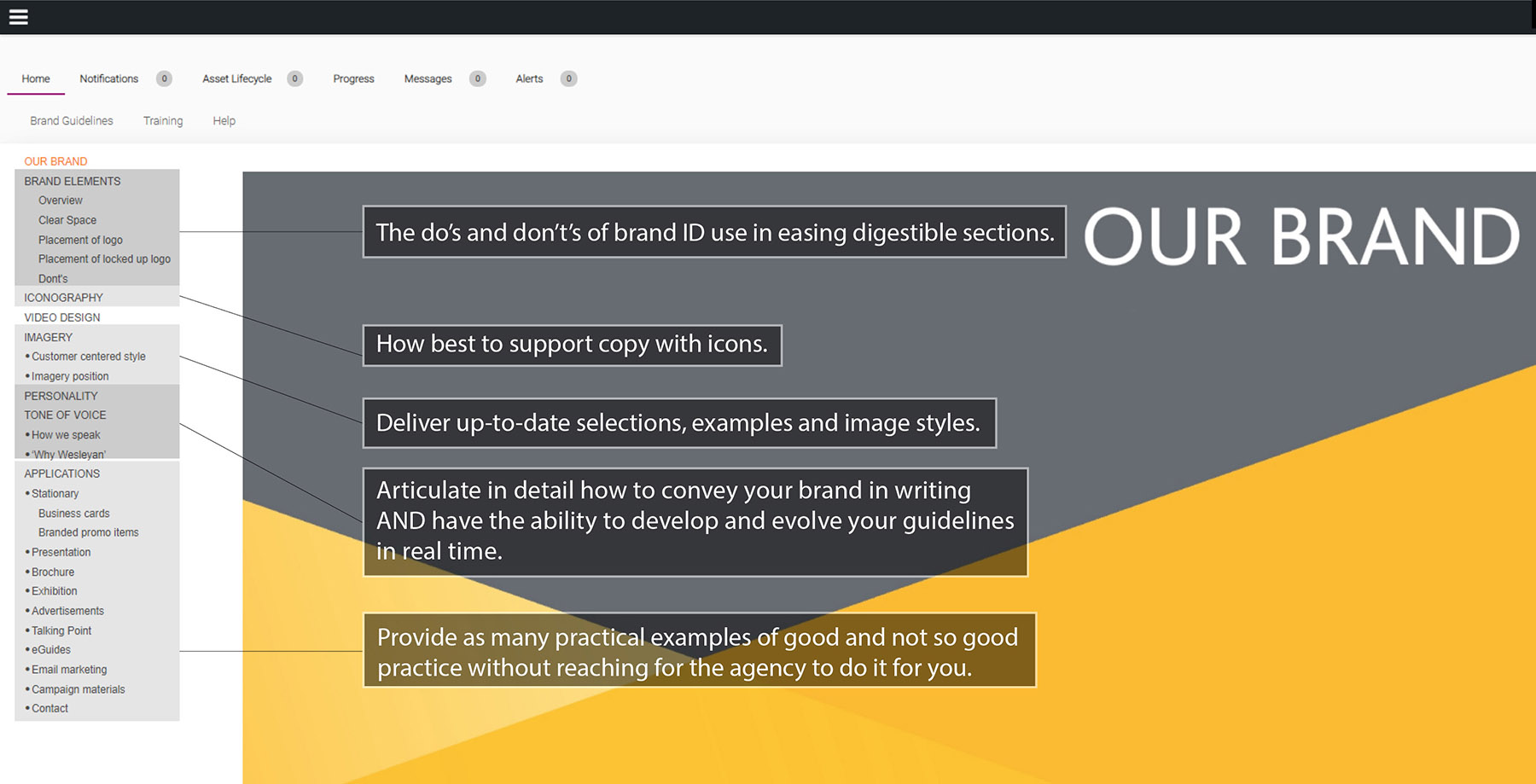 Client Outcomes
The outcomes achieved from the development of this functionality are best summed up by our clients
Founded in 1841, Wesleyan Assurance Society (Wesleyan) is a financial services mutual dedicated to some of the most trusted professions in society and is committed to creating brighter financial futures for doctors, dentists and teachers, so they can focus on the vital work they do.
Brand Executive, Katie Wright, said: "Originally we had a number of storage solutions across the business for our assets and brand guidelines. When bethebrand built our system, it gave us the opportunity to bring everything together into a system that was simple and intuitive. Like many companies we utilised external agency support to keep our brand guidelines up to date. Also, like many brands our guidelines and accompanying asset suite are constantly evolving. The brand guidelines module has completely changed our approach. We can now manage assets ourselves and keep our own guidelines up to date, with no time lag and no additional external expenditure. It has made us more responsive and colleagues, as well as our external agencies, can enjoy appropriate access to all they need to bring our brand to life.
Katie added: "A great example of the benefits of the module can be found in how we have been able to create amazing consistency very quickly in our slide decks. Every company has the same issues with slide decks in that they morph through usage. By having our template decks within the guidelines module, and a template within the assets area of the system, it not only aids presentation quality and consistency, but also supports compliance oversight and ultimately makes it easier for our teams to use the decks."
Would You Like to Know More?
If you would like to unlock the potential of brand asset management for your organisation contact Chief Executive Adam Hainsworth at adam@be-thebrand.com.